Point Cloud to BIM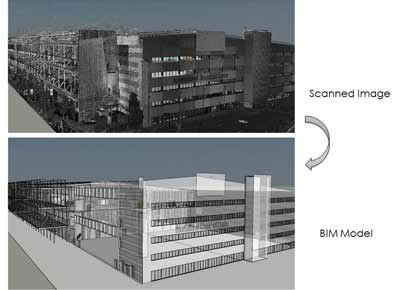 We partner with contractors, surveyors and engineers for laser scans to BIM and deliver as-built Revit models whether it is for refurbishment, renovations or retrofits.
Our scan to BIM team's deliverables offer the ability to view point clouds in 3D modeled geometry of Revit interface to create and examine it. Our engineers scan the project internally and externally followed with quality check for accuracy. We establish the accurate quality control network after discussing the specifications with surveying teams and engineers for scan and LODs of BIM model.
Point Cloud to BIM service offerings:
We take a cloud of millions of scanned points as inputs and transform it into data rich intelligent BIM 3D model by offering enlisted services:
3D BIM models, Floor plans, elevation, and sectional models
Systematic 3D surface reconstruction from point cloud
Remodeling for retrofit projects using Revit
Generating BOMs for retrofit tasks and activities
2D/3D Image & Point Cloud Processing Using The Point Cloud Library (PCL)
Revit family creation from Point cloud Scans
Contact us today for your queries regarding scan to BIM projects.
We are here to help you...
Speak to our BIM Experts for your queries today